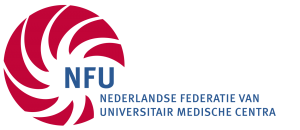 Netherlands Federation of University Medical Centres
NFU (Nederlandse Federatie van Universitair Medische Centra) is the Dutch observer member of HOSPEEM. NFU represents the eight University Medical Centers (UMCs) in the Netherlands that employs around 65 000 people.
The organisation aims to promote the centers' shared interests, represent them and reinforce their position through cooperation in areas such as finance, working conditions, politics, research, teaching and patient care.The NFU was founded in 2004 as a spin-off from the University Hospitals Association (Vereniging Academische Ziekenhuizen - VAZ), which was established in 1989. The objective has remained the same: ensure that agencies that decide healthcare issues in the Netherlands take into account the special role of the UMCs.