Hospital Social Partners meet Employment Commissioner on 'Sharp Injuries' negotiations
Representatives of the European Hospital Social Partners met with the European Commission for high level talks on the upcoming 'Sharp Injuries' negotiations.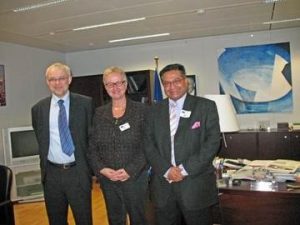 The Social Partners (HOSPEEM and EPSU for hospital employees) met with Commissioner for Employment and Social Affairs Vladimir Spidla on 20 January. Mr Spidla expressed his support for the upcoming negotiations and stated that he was pleased that the European Social Dialogue process was being used to address such an important health and safety issue.
The aim of the negotiations is to reach a European-wide agreement on measures to tackle the issue of injuries from sharps (such as needlesticks) in hospitals. HOSPEEM Secretary General Godfrey Perera and EPSU General Secretary Carola Fischbach-Pyttel (pictured with Commissioner Spidla) had previously sent a joint letter to the Commissioner announcing their intention to start formal social dialogue negotiations on the issue of sharp injuries in hospitals. The Social Dialogue talks are due to start on 26 January 2009.

HOSPEEM-EPSU 'Sharp Injuries' negotiations letter to Commissoner Spidla