EPSU & HOSPEEM Meeting Bulgarian Health Minister Petrov
Sofia, 1 June 2017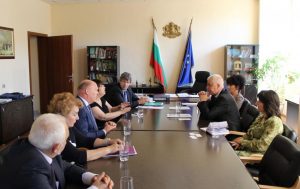 The Secretary General of HOSPEEM (European Hospital and Healthcare Employers' Association), Tjitte Alkema, and Mathias Maucher, Policy Officer "Health and Social Services", EPSU (European Federation of Public Service Unions) on 1 June 2017 met the Bulgarian Minister of Health, Prof. Nikolai Petrov. Slava Zlatanova, Vice President of FSZ-CITUB, and Krasimir Dimitrov Grudev, Member of the Managing Board of the National Union of Private Hospitals, also participated in the meeting.
The main purpose of the meeting was to allow for a first exchange on the planned priorities and major fields of action of Bulgaria in the field of health policies and with regard to the health workforce in the context of the Trio Work Programme agreed upon by Estonia, Bulgaria and Austria and to identify possible fields of common interest with the European social partners in the hospital/health care sector.
The Bulgarian Health Minister pointed out a number of topics Bulgaria has a strong interest in and could prioritise in the context of its Presidency of the European Council in the first half of 2018. Amongst those are the numerous challenges related to the cross-border migration of health workers, effective recruitment and retention policies to prevent from strong regional disparities within EU MS when it comes to the quality and availability of health services and a qualified health workforce, measures to ensure access to health care for the whole population, the reorganisation of emergency services with the aim to improve accessibility and quality as well as investment in continuing professional development for all health workers. In setting out his ideas to the representatives of HOSPEEM and EPSU Health Minister Prof. Nikolai Petrov advocated  to better address the consequences of outflow of qualified health workers, including from Bulgaria, to other EU MS. The Bulgarian Health Minister also showed a high interest in a mutual exchange across Europe on policies to guarantee access to health care.
Tjitte Alkema, Secretary General of HOSPEEM highlighted the priorities for the European social partners in the hospital/health care sector for the next three years as outlined in the joint work programme and gave examples of outcomes of the HOSPEEM-EPSU joint work. Tjitte Alkema also underlined the focus of EPSU and HOSPEEM on the health sector as services of general interest and the positive effects of (public) investment in health care services and the health workforce, including in continuing professional development.  Tjitte Alkema pointed out the role of European Economic Governance for policy initiatives on health employment and the need to focus on achieving greater self-sufficiency based on nationally trained health workforce  to address the problem of brain drain of health workers.
At the end of the meeting – that also included an exchange amongst the Bulgarian participants – it was agreed to explore fields for possible joint initiatives or activities once the Trio Work Programme would be formally adopted.