High participation at the High-level conference "A new start for social dialogue"
On 5 March 2015, the European Commission organised in Brussels the high-level conference "A New Start for Social Dialogue", intended to give a new impetus to social dialogue at EU level, 30 years after Val Duchesse.
This first key event of the new European Commission gathered leaders of European and national social partners' organisations (both cross-industry and sectoral) to discuss with the European Commission concrete ways to strengthen social dialogue and to ensure a more substantial involvement of social partners in EU policy-making. The European Commission was represented by President Jean-Claude Juncker, Vice-President for the Euro and Social Dialogue Valdis Dombrovskis and several Commissioners, among which Marianne Thyssen, Commissioner for Employment and Social Affairs.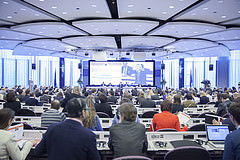 The HOSPEEM Secretary General Tjitte Alkema was invited to participate in a workshop on social dialogue and better regulation and to deliver a presentation to present his views on this topic.
At this occasion, the Public Services Employers' Forum, an informal forum of European employers' organisations cooperating on matters of joint interest, released a Joint Declaration.