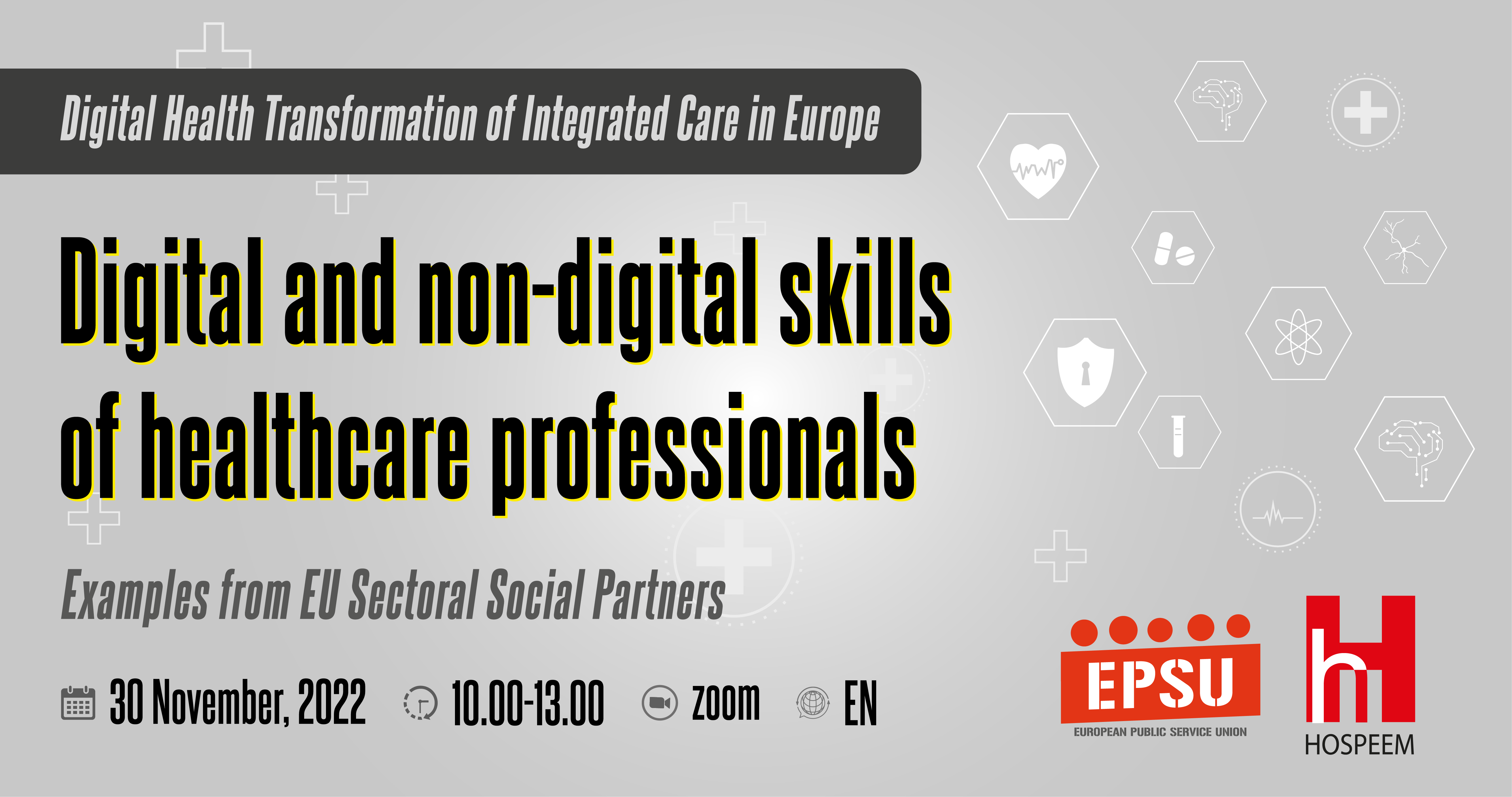 Joint HOSPEEM – EPSU Technical Seminar on Skills and Digitalisation – 30 November 2022
Digital Health Transformation of Integrated Care in Europe
Digital and non-digital skills of healthcare professionals
Examples from EU Sectoral Social Partners
The Seminar explored how digital solutions can support the integration of health and care services and will discuss which set of existing and emerging skills should be identified and developed. EU Sectoral Social Partners presented employers' and workers' current and future challenges in digital transformation.
Draft agenda as of 23.11.2022
Presentations by the EU Institutions:
"Digital Health European Health Data Space (EHDS)" EC DG SANTE, Martin Dorazil
"Digital skills for the health and care professionals" by: EC DG REFORM, Sasa Jenko – Health System Development Department, Ministry of Social Affairs, Estonia: Katre Trofimov and TIC Salut Catalonia, Spain, Elisenda Reixach
DG Reform Factsheet – Technical support for Health Reforms
Presentations of social partners examples from BE, CZ, FI and CY:
Belgium "Digital steps towards integrated care in Belgium" Peter Raeymaekers, Zorgnet–Icuro
Czech Republic "The preparedness of health care digitalization in the Czech Republic" Jiří Horecký, UZS ČR
Finland "Professionals Needed Competencies Developing Digital Health and Social Care Services- What kind of steps do we need to take in the lifelong learning process?" Outi Ahonen, Laurea University of Applied Sciences
Cyprus "Digitization in the Cypriot healthcare system – a sectoral and a national perspective" – Marios Karaiskakis, PASIN and National Committee on Digitalisation – (Coming soon)
The seminar took place online on 30 November 2022.
EPSU also published an event page about the webinar