HOSPEEM-EPSU Framework of Actions "Recruitment and retention"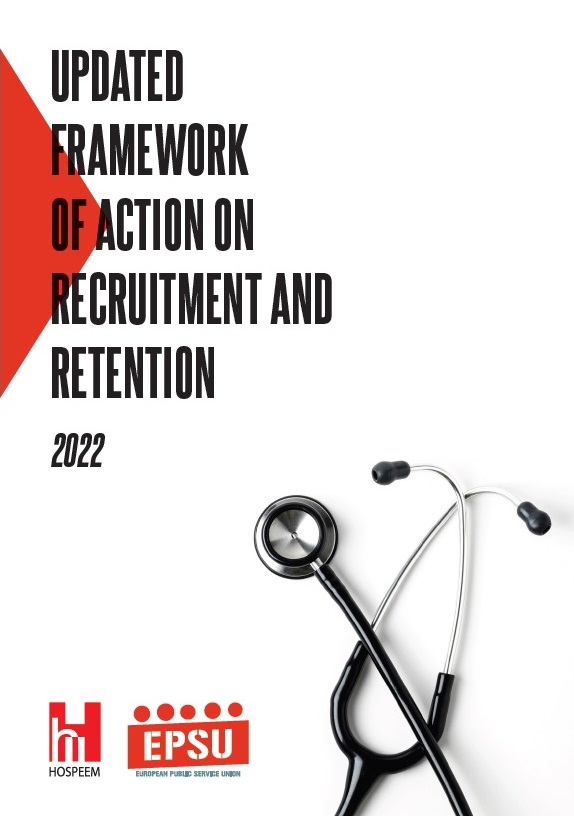 HOSPEEM and EPSU signed the updated Framework of Actions on Recruitment and Retention (FoA R&R) on 31 May 2022 (Read Press Release). The initial Framework of Actions was adopted on 17 December 2010. Following a first implementation report in 2016, social partners have been negotiating an updated version of the Framework of Actions between 2021 and 2022.
Staff recruitment and retention are key issues in hospitals and healthcare. This agreement constitutes an important basis for social partners at European and national level to develop concrete action to tackle staff shortages and qualification needs now and in the future.
The key topics of the framework of actions are:
supporting the recruitment and retention of workers;
improving work organisation;
developing and implementing workforce-planning mechanisms;
encouraging diversity and gender equality in the health workforce;
promoting initial training, lifelong learning and continuous professional development;
achieving the safest possible working environment.
Donwload the 2022 updated framework of actions: EN
Download the 2010 framework of actions: EN, FR, DE, ES, SV, BG, CZ, FIN, IT, PL
A first implementation report was published in 2016: EN
Several presentations were given in 2014 about the actions taken by social partners in the following countries:

Mechanisms to access the labour market: jobs for the future and generation contract (Les dispositifs d'insertion: les emplois d'avenir et le contrat de génération), Olga Ville and Sylvie Amzaleg FEHAP / HOSPEEM France, 1 October 2014


The response of NHS Employers to current retention challenges faced by NHS England, Steven Weeks, NHS Employers / HOSPEEM UK, 1 October 2014


The recent challenges for the recruitment and retention of workers in the hospital sector in Italy and the response of the Italian government, Marta Branca and Elvira Gentile, ARAN / HOSPEEM Italy, 1 October 2014


Challenges in the leadership in health and social sector, Kirsi Sillanpää, Tehy / EPSU Finland, 1 October 2014


Austrian joint contribution on follow-up to HOSPEEM-EPSU Framework of Actions, Ulrike Neuhauser, KAV / HOSPEEM Austria, Karl Preterebner and Willibald Steinkellner, GdG-KMSfB and Vida / EPSU Austria, 1 October 2014


Continuous Professional Development (CPD) for nurses and midwives in Cyprus, Zoyia Antoniou, PASYDY / EPSU Cyprus, 25 June, 2014
Further material and information provided by HOSPEEM member:
NHS:

Recruitment of young people via employment programmes


Retaining staff through good employment practices


Apprenticeship and traineeship programmes


Ageing workforce


"Nurse Back to Practice" programme


Social partnership forum
(Data on trends staff numbers in the NHS can be found via the Health and Social Care Information Centre monthly statistics)
CLAE:


Longer careers with the job life cycle model – guide to designing an age plan
*** Read 2022 Press Release – Read 2010 Press release ***