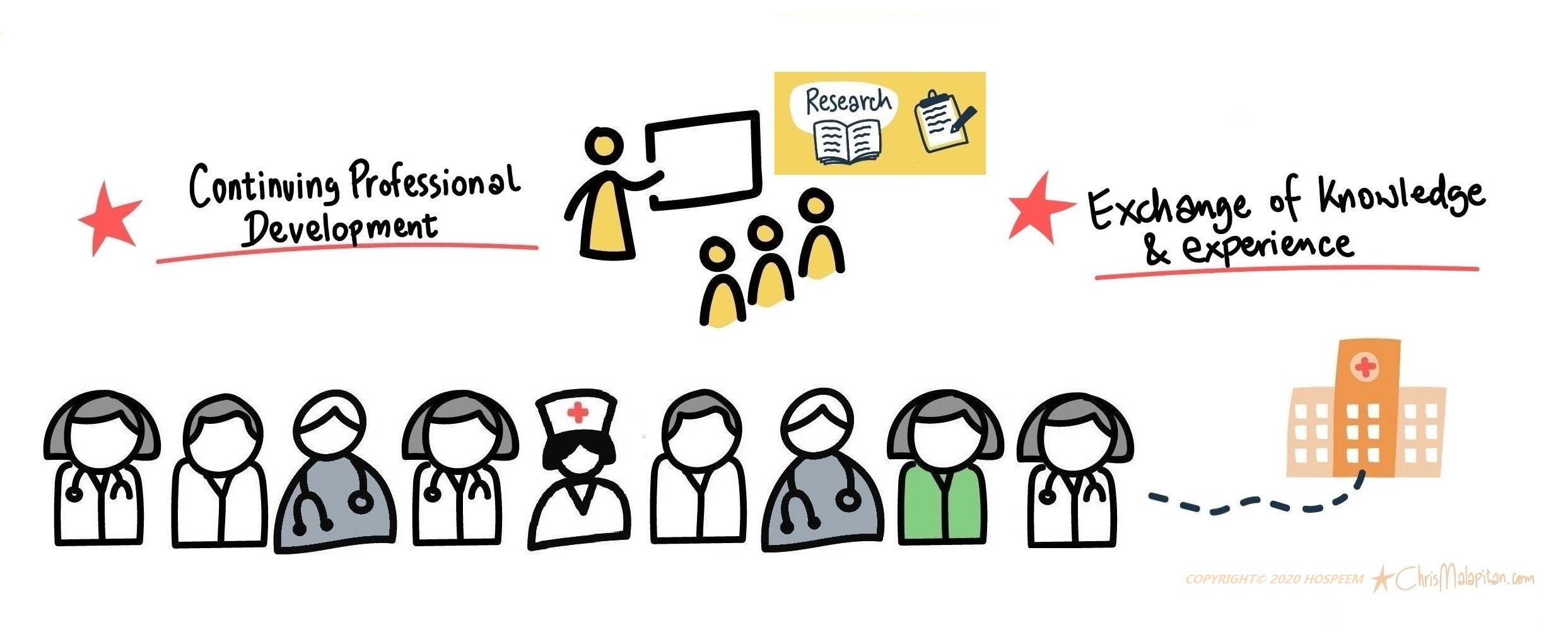 CPD and LLL: Material and guidance
This dedicated webpage presents documents (guidance, handbooks, training material, good practice etc…) collected by national social partners on Continuing Professional Development (CPD) and Life-Long-Learning (LLL). Please note that this is work in progress and only an indicative list which does not necessarily reflect the latest documentation available.
Nb: HOSPEEM and EPSU would like to thank all the national social partners that contribute to this webpage by submitting materials – in particular the organisations indicated in brackets below.
I) NATIONAL SOCIAL PARTNERS, EUROPEAN COUNTRIES
General


CPD Programme at the Trauma Team- Töölö Hospital – Helsinki University Hospital – Finland (TEHY) – in EN


Lappeenranta seminar on the development of working life in the municipal and public sectors – Finland (KT) – in FI


A systematic approach to and long-term monitoring of the transformation of work in the local government sector – Finland (KT) – in FI


Introducing the contribution of patients in the training process – France (FEHAP) – in EN


Patients as teachers – a deep dive into professional education – France (FEHAP) – in EN, in FR


National CPD Strategy – Germany (VKA) – in DE


Research program RN2BLEND on the differentiated deployment of nurses in hospitals – Netherlands (NVZ and NFU) – in EN, NL


Program CZO flex level – Improvement of the training offer for specialized nurses and medical support staff– Netherlands (NVZ and NFU) – in NL


Program ZMT! – Healthcare Professionals Make the Future!, Netherlands (NVZ) – in NL


A nurse is a nurse is a nurse? Skills level differentiation – Netherlands (Radboud University Medical Center and NVZ) – in EN


CPD for support staff: a new career opportunity in nursing – United Kingdom (UNISON and Health Education England) – in EN


Implementing a just and learning culture – United Kingdom (NHS Employers) – in EN
Lifelong Learning


Vård och omsorgscollege – An example of social partners' cooperation at local and regional level, i.e. skills validation – Sweden (National Council
Sweden, KOMMUNAL) – in SE


Learning in partnership – United Kingdom (NHS) – in EN


Learning Agreement/Union Learning Reps – United Kingdom (NHS) – in EN
Effective CPD


Definition of CPD priorities and negotiations of professional branches on CPD activities/programmes in the French hospital sector – France (CFDT) – in EN


Competence development of an ageing workforce in German hospitals – Germany (AT, Gelsenkirchen) – in EN


How to cooperate between trade unions, employers and education providers in setting up effective CPD in Sweden? – Sweden (Kommunal, Sweden and Health and care services college) – in EN


Working and learning in the service – Managing continuing professional development – United Kingdom (CenMEDIC) – in EN
Inter-professional cooperation and skills development


The BRIDGE model – A competency development programme designed to enhance interprofessional collaboration, shared knowledge and patient and citizen involvement across sectors – Denmark (Center for human resources, Capital Region of Denmark) – in EN


How does CPD support multi-professional team-based care? – Finland (Helsinki University, Central Hospital HUCH, Helsinki Burn Centre) – in EN
Funding of CPD


Roles and activities of a paritarian organisation to promote and support CPD for care workers – Belgium (Competentia) – in EN

APEF- Association Paritaire pour l'Emploi et la Formation – Belgium (Competentia) – in FR


From unskilled to skilled (3F, FOA and The Danish Regions (Wage and Tariff Board of the Regions) – Denmark (Danish Regions) – in DK

The Competence Fund – Denmark (Danish Regions) – in DK

Development and research fund in the regions – Denmark (Danish Regions) – in DK


Heidelberg Hospital: Acadamy of Health Professions – Germany (Ver.di) – in EN


How is, or should, CPD be financed? An example from the Netherlands – Netherlands (NVZ) – in EN
Innovative workplace learning


Crew Resource Management: a Dutch example of building health care teams focusing on effective communication and leadership – The Netherlands (NVZ, Gelre Hospital) – in EN


Good practice: Short video instructions at the moment of need, Jaco van der Worp – The Netherlands (NVZ, Groene Hart Hospital, Gouda) – in EN


Learn to escape! – The Netherlands (NVZ, Spaarne guesthouse) – in EN


The 'Roadmap': A Dutch example of organising support for Continuous Professional Development that fits within the ambitions of the organisation and its employees – The Netherlands (NVZ, North West Hospital Group, Alkmaar) – in EN
CPD for new models of care and new professional roles

Program JumP – Right care in the right place – Netherlands (NVZ) – in NL


No place like home – Gupta Strategists report – Netherlands (NVZ) – in EN
CPD related to the digitalisation of health care


Program VIPP – Digital access to your own medical data – Netherlands (NVZ) – in NL


Building a digital ready workforce – United Kingdom (NHS, HEE) – in EN


Informatics Workforce Report – United Kingdom (NHS, HEE) – in EN


NHS Digital Academy – United Kingdom (NHS, HEE) – in EN


Becoming Digital Competent Project – developing healthcare professionals competencies in digital solutions – Denmark (Danish Regions as well as several public partners, municipalities and educational institutions) – in EN, in DK


Increasing digital training capacity, Guy's and St Thomas' NHS Foundation Trust (NHS) – in EN


A guide to good practice for digital and data-driven health technologies – Department of Health & Social Care (NHS) – in EN
II) EUROPEAN INSTITUTIONS, AGENCIES OR INTERNATIONAL ORGANISATIONS
European Institutions


Directive on Recognition of Qualifications (2005/36/EC) modernised with Directive 2013/55/EU (20 November 2013)


Skills audits – Tools to identify talent : final report – Study – (EC), 2019


New Skills Agenda for Europe [COM(2016) 381 final] – (EC)


EC Handbook on classification of European Skills, Competences, Qualifications and Occupations (ESCO), 2018


Matching skills and labour market needs in the changing world of work – strategic approach on continuous lifelong learning – (Council of the EU), 2019


European Skills Index (CEDEFOP), 2018
Organisation for Economic Co-operation and Development (OECD)


Skills Outlook 2019 – Thriving in a Digital World
International Labour Office (ILO)


Lifelong learning: Concepts, issues and actions concept paper, 2019


The involvement of employer organisations in the governance of skills systems: a literature review, 2019
World Health Organization (WHO)


The toolkit for a sustainable health workforce in the WHO European Region, 2018