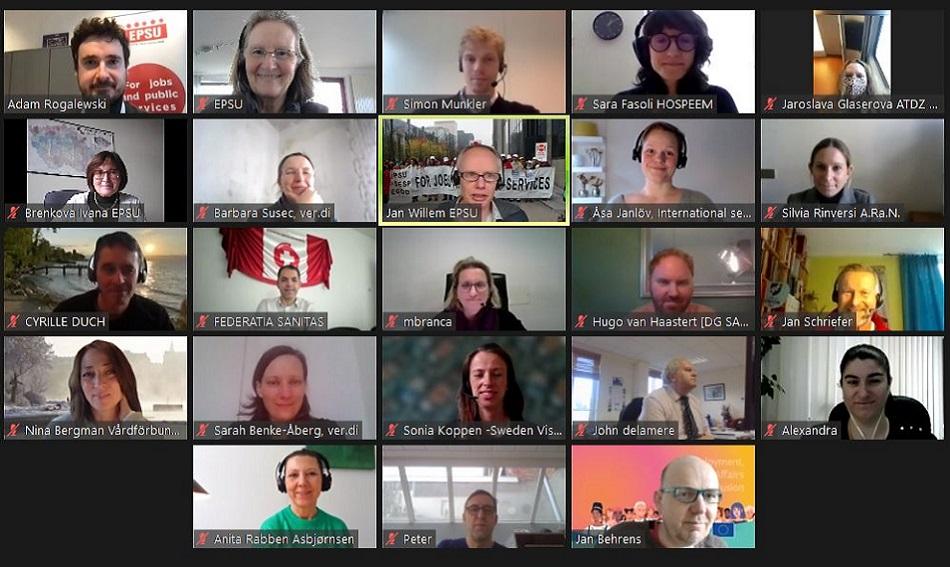 Unions and Employers discuss European Health Data Space with a representative of the European Commission
On February 3, 2022, EPSU and HOSPEEM jointly organised an online informative session on the European Health Data Space (EHDS), with the purpose of providing a space  for the exchange of information between the European Commission (EC) and social partners in the healthcare sector. The aim of the meeting was to give the EC the platform to introduce the topic and discuss what implications the EHDS will have for health workers and the health sector.
The session started with a brief introduction by Jan-Willem Goudriaan, EPSU General Secretary, who welcomed expert Barbara Susec from ver.di, experts from HOSPEEM. and Hugo van Haastert, of DG Sante. (Unit B.3, European Reference Networks and Digital Health). He presented the initiative and stressed that the framework of the EHDS should serve the public and strengthen the quality of care.
Hugo van Haastert also  explained the legal proposal EC  has been working on and provided  insight into the existing European data infrastructure. He highlighted the role of the EHDS to simplify and connect primary and secondary health data to make them more accessible for workers and patients.
The presentation was followed by a discussion, in which data protection and the importance of equal access to data and digitisation, also via targeted training tools, were highlighted. Participants also emphasised that the role and involvement of health care workers within the framework of the EHDS should be more accentuated.
The session was concluded by Marta Branca, HOSPEEM General Secretary, who stressed the relevance of the informative session in the framework of the the Sectoral Social Dialogue Committee and thanked the organisers and participants for their input.
Download the European Commission's presentation (.pdf)
EPSU also published an article on this topic